Essex Improviser's Collective-Lifting The Light

The new first album by the incredible improvising group, featuring Fred Taylor on drums and percussion, Bob Ackerman on woodwinds, Chris Lough on double bass, Herb Robertson on brass and vocals, and Adrian Valosin on second drum set. A 2-CD set. CCR-EIC-1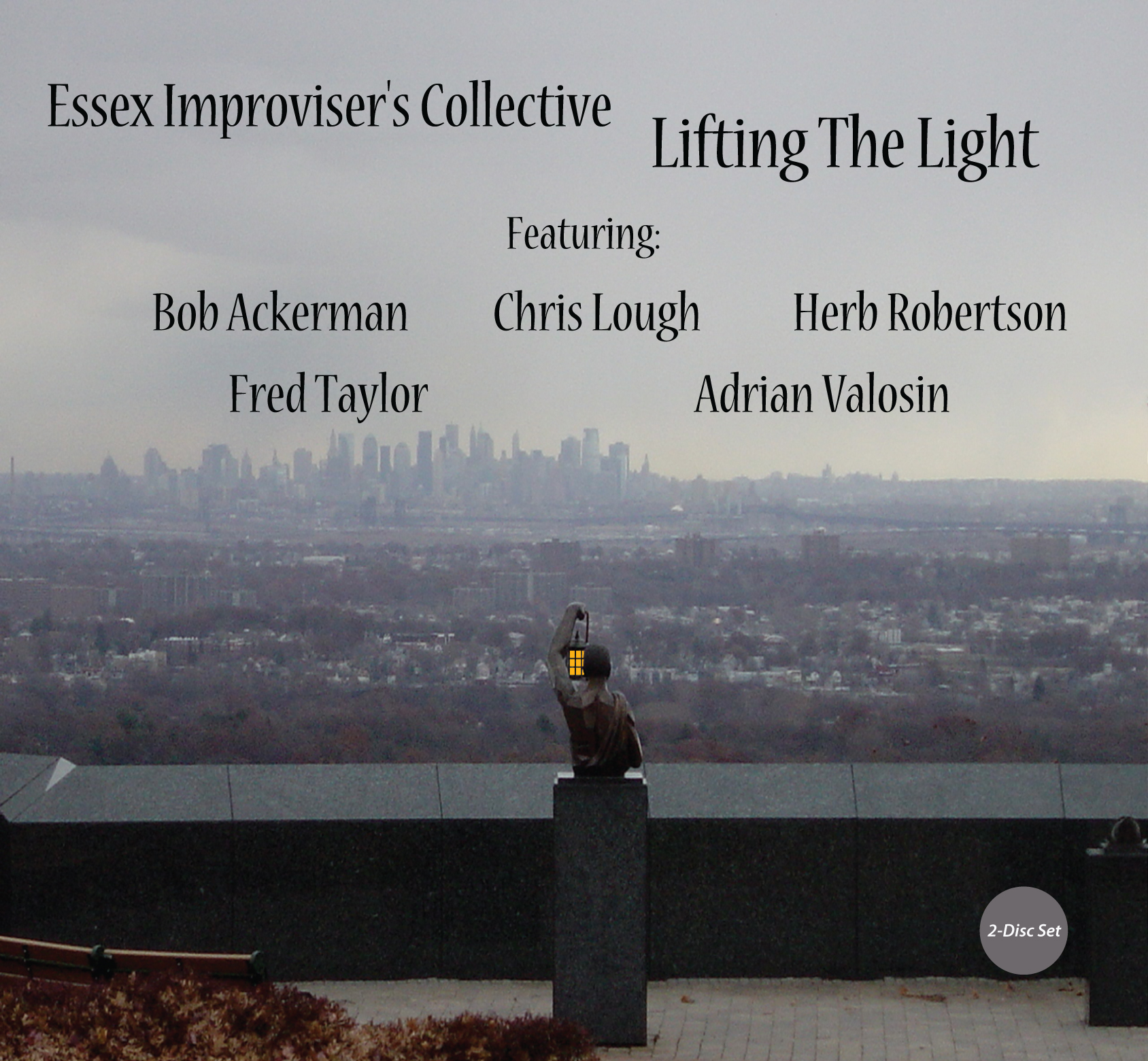 Essex Improviser's Collective-Lifting The Light
by J.W. McClure - Victory Music Review April 2012
The Essex Improviser's Collective consists of: Bob Ackerman-Alto, Tenor Saxophones; flute, clarinet on all tracks; Chris Lough-double bass on all tracks; Herb Robertson-Trumpet; Fluegelhorn; Valve Trombone; Voice; Percussion on all tracks; Fred Taylor-Drums, percussions all tracks; Adrian Valosin-Drums on most tracks Described as "...spontaneous composition by an ensemble of highly-accomplished instrumentalists, each of whom is also a composer..." the group apparently decided to forego the esoteric names for each track and designate them as 'Piece 1', 'Piece 2', and so on. 'Piece 1' begins with the trumpet searching for lost tone and the whole bunch gathers around a rhythm somewhere in the middle. Then like lost night birds the sax and muted trumpet cackle back and forth. 'Piece 2' begins like a soulful melody backed by a smoky bar bass-the clarinet stays to play out a light carefree mood. The bass talks and gives us all the details of the day. Interplay between bass and drum is almost always interesting. Punctuation is provided by the squealing trumpet and then all the horns have a serious conversation. One hundred fifty one minutes of music, two CDs and fifteen tracks is a generous offering. We can claim Fred Taylor as a "fixture on the Seattle music scene." Previously we reviewed the trio of Taylor, Ackerman and Crane in Live At Cecil's and Fred has played with notables such as Jimmy Witherspoon, Dianne Schuur, Gary Peacock and Ferlin Husky. Understandable to jazz virtuosos, but perhaps foreign to the lyricist in the corner looking for a clear melody – this stuff forces you to use your cerebral parts wherever they may be. This stuff is moody, not unlike thoughtful, beat poetry. The ability to make something from nothing is appreciated and not unlike the painter deciding on a technique that involves blindfolds and a wet paintbrush. Playing without restraint has to be like loosening tight muscles. The recording is from the midst of the band. Herb Robertson leads off 'Piece 4' with vocal calisthenics, wordless singing, just the movement of sounds, the throat and tongue. Fred Taylor writes, "This is one way we occasionally break free of these constraints." I would say we learn and discover through play. Let go of your big band dance tunes and stylized Tin Pan Alley songs and relax in the direction of Bebop. It's good exercise.
From Tom Hull's online notebook July 16, 2012
Essex Improviser's Collective: Lifting the Light (2012, Fred Taylor Music, 2CD): Two horns -- Bob Ackerman (alto/tenor sax, flute, clarinet) and Herb Robertson (trumpet/flugelhorn, valve trombone, percussion, voice) -- bass (Chris Lough) and drums (Fred Taylor, with Adrian Valosin doubling up on half the tracks). Two 75 minute discs of group improv, lots of space to open up in. Robertson is the best known player here, and is especially strong. Never ran across Ackerman before, but he has a half dozen albums on avant labels since 1993; seems like someone to look into further. B+(**)
Fred Taylor Trio-Live at Cecil's Volume 1

The live album by the highly interactive trio, featuring Fred Taylor on drums, Bob Ackerman on woodwinds, and Rick Crane on double bass. Includes a DVD of the performances. Recorded January 2009. CCR-FT-4_1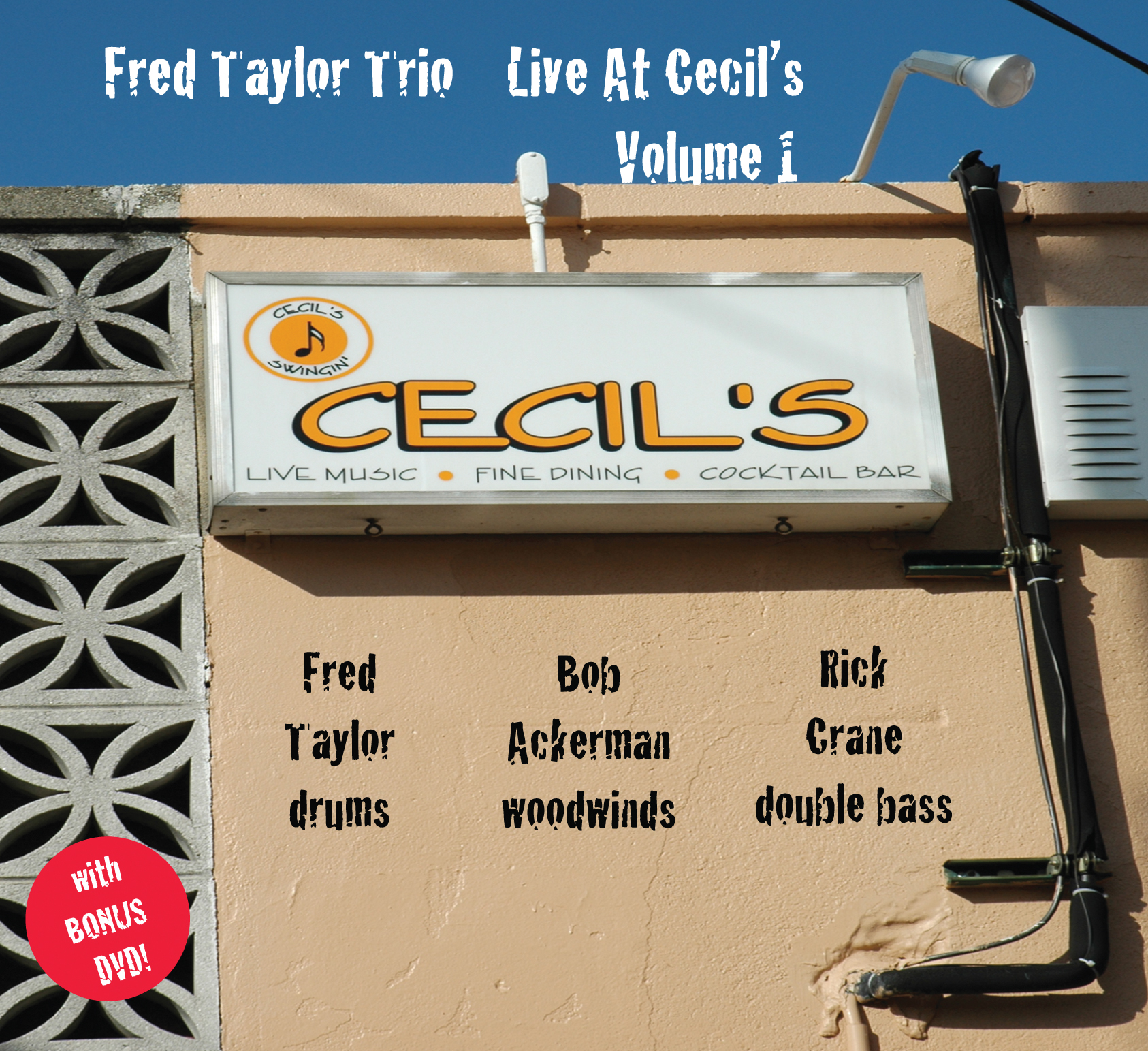 Fred Taylor Trio transports straight-ahead jazz live to Cecil's
Fred Taylor Trio "Live at Cecil's, Vol. 1" album [2009, Fred Taylor Music]
Rating:***** July 15, 2014
by Carol Banks Weber
"Cecil's is the home of jazz in N.J. Owned by the drumming great Cecil Brooks III and his wife, Adreena, Cecil's is the place where musicians hang out, trade ideas, blow lots of great music and build strong and lasting friendships. We in the trio are very proud to have performed there."

The opening song off the Fred Taylor Trio's Live At Cecil's (Vol. 1) album is Sonny Rollins' "Sonnymoon For Two," clocking in at seven minutes, 20 seconds. It's full-on, unapologetically, leisurely straight-ahead, post-bop jazz by three well-armed working musicians, including one respected veteran. Spokane, WA native Fred Taylor made the trio's first live album — a two-disc CD/DVD set — in West Orange, N.J.'s Cecil's Jazz Club and Restaurant, on January 23, 2009. There's a second live album coming out this month with a young, hot Italian, electric bassist named Francesco Beccaro. "Cecil's is the home of jazz in N.J. Owned by the drumming great Cecil Brooks III and his wife, Adreena," Taylor explained. "Cecil's is the place where musicians hang out, trade ideas, blow lots of great music and build strong and lasting friendships. We in the trio are very proud to have performed there." This is Taylor's live album, but the performances by Bob Ackerman (woodwinds), Rick Crane (double bass), and Taylor on drums are equally distributed. Taylor could easily take over every solo, but he seems to enjoy the remarkable interpretive values of his colleagues too much. Much of the time, he's content to sit back and hold the groove in place. In "Sonnymoon For Two," Taylor acts as a member of the audience, observing Crane go a capella, and then Ackerman speaking in sax-tongues, only stepping in with a few soft brush strokes — as much to add texture, as to keep moving the tune forward. In many ways, Ackerman drives the featured covers and original compositions (four of them are his) on the 10-track live album, while Taylor and Crane provide an airy distillation of his various reeds and that smooth, supple saxophone. The covers "Moon And Sand" and Cole Porter's "What Is This Thing Called Love?" feature one of Crane's best solos, tripping gently over the notes, roughing it in others, letting the spaces fill in between his chords as if they've always belonged. Ackerman steps away a few feet in the DVD to let his colleague go to town, returning to bring the whole piece back home with a barely perceptible nod. With the progression of each song in the live performance, Taylor stretches farther out creatively in his drum solos, taking longer, and taking larger and larger chunks of his kit. His solo on "What Is This Thing Called Love?" really shows a deft hand, and a curious wandering into different stylistic territory, as if dipping his toes in the water before walking away. Fred Taylor wrote "Bela's Bounce," which glimpses his fun side. Whether the Mukilteo, WA-based drummer takes on ballads or fast-moving charges, he's both grounded for the musicians taking the leading role and playfully sharp in his own solos. This song perfectly gets Taylor's strong but supportive personality, and gives Crane and Ackerman a lot of volume and breadth with which to layer. When Crane goes off on his informed tangent, letting every other tangy note reverberate, Taylor's right underneath, stroking the lower levels in a nicely rippling groundswell. His drum solo, a punchy, infectious start, is much too short. "LTD's Ballad" is a meandering little four minutes and 57 seconds of Ackerman on clarinet. It's way too much clarinet. At one point toward the end, it's hard to tell if he's intentionally producing a stray squeak or two for effect, or if it's a mistake. But either way, it's jarring, because the song doesn't really go very far live. The recorded version in the trio's 2008 album, Circling, sounds better. Taylor's first instrument was piano, which he learned at the age of five in classical music. By 10, he found his calling on the drums. And by 14, he was gigging professionally in his hometown. It wasn't too long before he gigged all over the U.S. and Western Canada, vibing off an extensive play list of songs and styles, including funk, rock, Top 40, orchestral, and country, which the Cecil's audience hears throughout this live album. Taylor and Ackerman forged a strong and supportive bond after meeting in 2005 on the East Coast. The meeting led to a steady gig at Cecil's Jazz Club (the place closed down in February, 2012) in West Orange, N.J. for the Tuesday night open jam. Ackerman, an expert in sax/flute technology, was a regular at the jazz club. Taylor, studying at the Drummer's Collective in New York City at the time, enjoyed playing with Ackerman so much, they formed a trio with bassist Crane in New Jersey, playing and recording from 2008 to 2010. "Cecil Brooks III asked us to perform in his club, where we made the live CD on January 23, 2009," Taylor added.
Fred Taylor Trio-Live At Cecil's Volume 1
by J.W. McClure - Victory Review March 2010
This trio, based in Mukilteo, puts forth a collection of songs recorded at Cecil's "a home for jazz" in New Jersey.  Leader, Fred Taylor, is the drummer and it becomes apparent that he is the glue, the constant factor in the archive of songs.  I really like the space he gives to the other musicians. No need to check the ego in this band. The format is really to opposite of 'band', rather it is made of many solos. The woodwinds and bass can romp. The CD has an accompanying DVD, so you can watch and listen. It's hard not to like their version of Cole Porter's 'What is This Thing Called Love?'  Witness the expressive, gritty sax. Well, the bass solo is great too. Who wouldn't like the lazy 'Sonnymoon for Two' written by Sonny Rollins.  Each instrument - bass, drums and woodwinds - is able to occupy a separate plane. The players rarely need to intersect because they harmonize - parallel universe where everyone gets along. Please understand, Fred the drummer, knows all of this because he makes it work quietly and effectively. There are four tunes written by Bob Ackerman, woodwind artist.  It's hard to pick a favorite but in 'Circling' Ackerman nicely walks off stage leaving Rick Crane to play one of the best bass solos I've ever heard. Then there is Fred Taylor's recent tune, 'Bela's Bounce', inspired by some portion (was it the break down of the diatonic scale or was it his interest in culture and folk music particularly of peasants?) of the 20th Century Hungarian composer Bartok. At any rate, the whole trio is at work on this one which moves. Good stuff.
by Ilya Stemkovsky - Modern Drummer Magazine April 2010
A veteran of the Seattle jazz scene, drummer FRED TAYLOR shows off his highly inventive brushwork and agile soloing on Live at Cecil's, a CD/DVD combo from 2009. His trio is dynamic, aware, and confident.
Fred Taylor Trio-Circling

The first CD by the New Jersey-based trio, featuring Fred Taylor on drums, Bob Ackerman on woodwinds, and Rick Crane on double bass. CCR-FT-3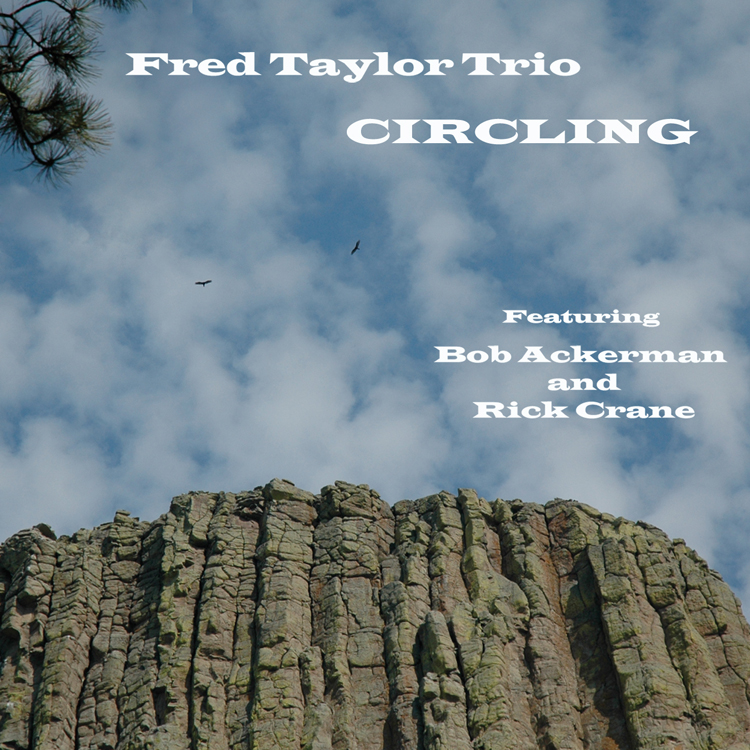 Fred Taylor Trio-Circling

Fred Taylor Trio 'Circling' around woodwinds for intimate reflection
Rating:*****
July 14, 2014 The Examiner.com
by Carol Banks Weber
"The trio format is ideal for Bob [Ackerman's] jazz tunes. His writing and playing combine to enrich the listener with the full melodic and harmonic spectrum of his compositions, to which Rick [Crane] and I gladly add our propulsion and gravity. The result is an ensemble playing with great freedom — playing circles around and with each other" - Fred Taylor

Working jazz musician Fred Taylor was happily ensconced in the Mukilteo, WA area, gigging here and there, recording demos, performing acoustically, especially with his jazz-fusion bands, Inquest and Sanctuary (Gary Rollins, Craig Lawrence, the late Dana Brayton). The period between 1978 to the 1990s proved formative for the Spokane, WA native. Then, he went to New York City to study in the Drummer's Collective after the turn of the century, and became even better. Immersing himself in his studies and gigging with New York cats set off an intensity and composure to Taylor's play. When he met saxophonist/reedist Bob Ackerman, things really got hopping. "I first met Bob Ackerman in 2005 while I was a student at the Drummer's Collective in New York City," Taylor described. "He was a regular at Cecil's Jazz Club in West Orange, N.J., which had an open jam on Tuesday nights. I had heard about him and read of his recordings and appearances for years. I also knew that he was a sought-after expert in saxophone and flute technology. We played together at Cecil's only a couple of times before I finished my schooling and came back to Mukilteo to finish recording Processional with the Inquest quartet." Taylor returned to the East Coast in 2007, driving across the country in his camper to shop his new album around and keep up the friendships he made there. Inevitably, the drummer went back to Cecil's, jamming with Ackerman on a weekly basis. The jams took on a permanent status, with Ackerman and his wife, jazz singer Pam Purvis, inviting Taylor to be a part of their trio. When Taylor had a chance to return the favor for his own East Coast working band in 2008, he reached out to Ackerman, and then Ackerman suggested double-bassist Rick Crane. A few short rehearsals at Ackerman's home, and a demo later, Circling arose. "Bob is a very interesting composer for ensembles of all sizes; when we started playing his originals I was thrilled with them," Taylor detailed. "We had a couple of rehearsals at Bob's home, then headed into Kobe Studios for what was intended to be a demo. After listening to the results, I decided to make it into our first CD." The cover of the trio's 2008 album is a photo of the Devil's Tower Taylor took in between his Seattle-to-NYC commute. While making the stop, he noticed hawks and crows circling around the summit of the natural landmark, giving him the inspiration to match that idea with what Ackerman loves to do with his progressive winds music. A year after this new album came out, the trio would record the live version from the musicians' favorite jamming hangout, Cecil's — by popular demand. Look for another live album this year, with young Italian, electric bassist Francesco Beccaro. The quality of Ackerman's quiet, intensive music is evident. But so are the contributions of Taylor and Crane. Taylor's drumming ability became much more cohesive and refined after playing with the big boys in New York. Check out Crane and Taylor's solo track on "Circling." Taylor waits on Crane, without overpowering the drive, yet drives a difference. Crane himself checks in on each harmonic break, using the spaces, dips, and dives of a natural progression. When Ackerman comes in on his sax, he's free to do his own thing in keeping with the groundwork of his drummer and bassist. Taylor slips in his solo before the fade, nice and easy, building momentum, yet never bothering with the loud, caustic fireworks of an amateur. Maturity indeed. It's as if he's playing around with the notes, taking his time, finding his flavor — even laughing through his beats. In many respects, Circling is Ackerman's album. The songs' natural rhythms center around his reeds and saxophone. On "Inventions I & II," the flute-and-bass interplay enters a mesmerizing mix of progressive and alternative jazz. Ackerman makes his flute converse with Crane's bass and Taylor's drums, as if a bird lit into the recording room and began to make its own music. Thrusting the flute and bass into the spotlight — normally background, supporting players — works well in this piece. The musicians don't try to be more than they are, yet they do master some reinvention, able to exact stories from the lesser-known, smaller instruments. "LTD's Ballad" could lay side by side on measured scope to Art Garfunkel's pop hit, "I Only Have Eyes For You." But the trio veers off-course at the last second into a swirling, circling detour before the comparisons get too deep. Ackerman shows excellent style and grip leading on clarinet in a straight-ahead jazz piece with traces of emerging styles in folk, world music, and avant-garde. Even his squeaks speak to the artistic range and the variable human touch, giving voice to the weak, character to the nebulous and airy. In essence, referring back to Taylor's album cover analogy of nature's wonderful allegory to three solid working musicians' captured connection.
by Dave Miele - Jazz Improv Magazine January 2009
Fred Taylor is a talented and tasteful drummer and bandleader. His latest release, Circling, is a collection of swingin' tunes in a traditional jazz style, the bulk of which were written by Taylor's reedman Bob Ackerman (who plays alto, flute and clarinet on the disc). Together with bassist Rick Crane, Taylor and Ackerman present a bare bones, no-place-to-hide program that truly displays the depth of each musician in this highly sympathetic and interactive band. The three men play as one living breathing entity throughout Circling. Five of the tunes on the disc were written by Bob Ackerman. The first of these is the title track, a medium swing, post-bop flavored number on which Ackerman plays alto sax. His tone is biting and brittle, highly emotive and uniquely original. Crane takes the first solo, an adventurous thing. This is followed with statements by both Ackerman and Taylor before a return to the main melody. Another Ackerman original, "Dexter's Thing" is a bossa-esque tune. The exotic melody is delivered on clarinet, in a gentle style. Ackerman also plays clarinet on his "LTD's Ballad", an achingly slow and tender composition with some fine brushwork from Taylor. The band comes alive on their reading of the Ackerman tune "My Response". Flute bass and drums act and react as one on this highly interactive tune. The composition displays unison playing, call and response type figures and collective improvisation. The final Ackerman song is "Lauren's Waltz" with a return to that aching alto saxophone tone. This medium waltz is somber and a bit foreboding. Also featured on Circling is "Inventions I and II". The piece seems to be a free and collective improvisation (it is credited to the entire trio) and stands as a testament to the musicality and sympathy with which these musicians play with each other. The program is rounded out by an interesting take on "Dear Old Stockholm", which incorporates the standard introduction into the form of the melody, and "Moon and Sand", a medium swing number which again features Ackerman on flute. Fred Taylor shows great command of his instrument - and his band - on each track of Circling. When he's called on to solo - as in the title track - he displays a virtuous and musical understanding of modern jazz drums. When Taylor chooses to make his statements more about the tune at hand and the musicians with which heís performing, his taste and simplicity abound. He's picked two magnificent musicians to share his musicality with. He's found a masterful composer in Ackerman and in Crane a bass player who is so much more than an accompanist. The Fred Taylor Trio plays trio music in the manner of Bill Evans with a unique identity (not to mention the lack of piano).
by John Vincent - JazzReview.com April 2009
Drummer Fred Taylor, a longtime veteran of the Seattle-area music scene, has been recording as a leader and sideman for more than thirty years. Currently residing in New Jersey, Taylor presents his first east coast production with Circling, a straight-ahead session featuring woodwind player Bob Ackerman and bassist Rick Crane. The disc consists of two standards ("Dear Old Stockholm," "Moon and Sand"), a handful of Ackerman originals and the collaborative improvised effort "Inventions I and II."
Ackerman's composing, lyrical and swinging, is a highlight of the disc. The bouncy and somewhat angular opening track serves as a clear-cut introduction to the piano-less trio's concept: wide open space, highlighting intuitive group interplay. Crane's up-in-the-mix bass lines and Taylor's subtle percussive pulse compliment the melodic and improvised turns of Ackerman, who is equally effective on alto, flute and clarinet.
The bossa-to-swing groove of "Dexter's Thing" and easy flow of "LTD's Ballad" feature Ackerman's rich clarinet tone and Crane's lucid, perhaps Ron Carter-inspired, bass flourishes. "My Response (K.G.)" and "Inventions I and II" present a more free form approach while maintaining an accessible aesthetic. Taylor's patient, yet always present approach allows the leader to express himself while letting his trio-mates shine--a quality sorely missed from so many drummer-led recordings. Ackerman's "Lauren's Waltz," a soft musical cushion featuring light brushwork and flowing bebop lines, closes a satisfying disc worthy of repeated listening.
by Bill Milkowski - Jazz Times Magazine May 2009
Drummer Fred Taylor showcases the compositions of respected alto saxophonist and educator Bob Ackerman on this highly interactive trio outing with bassist Rick Crane. Everyone is on equal footing here, with Crane's agile upright basslines resounding in the mix as prominently as Ackerman's sax, flute and clarinet. Together they turn in a swinging rendition of "Dear Old Stockholm", along with Ackerman gems like "LTD's Ballad" and "My Response". The keen-eared Taylor is responsive to every nuance throughout, which is best exemplified on the freewheeling "Inventions I and II".
by New Jersey Jazz Society - 'Jersey Jazz' December 2008
"The essence of jazz is the player" says NJJS member Fred Taylor, and the spare, piano-less trio on his new CD offers ample room for three skillful players to ply their artful trade. The progressive but musical disk features six originals by fellow Jazz Society member Bob Ackerman among the CD's eight tracks. Veteran bassist Rick Crane rounds out the trio.
Fred Taylor and Inquest-Processional

The highly unusual and beautiful CD by the Seattle-based quartet, featuring Fred Taylor on drums, Gary Rollins on guitars, James Clark on electric and acoustic bass, and Craig Lawrence on woodwinds. CCR-FT-2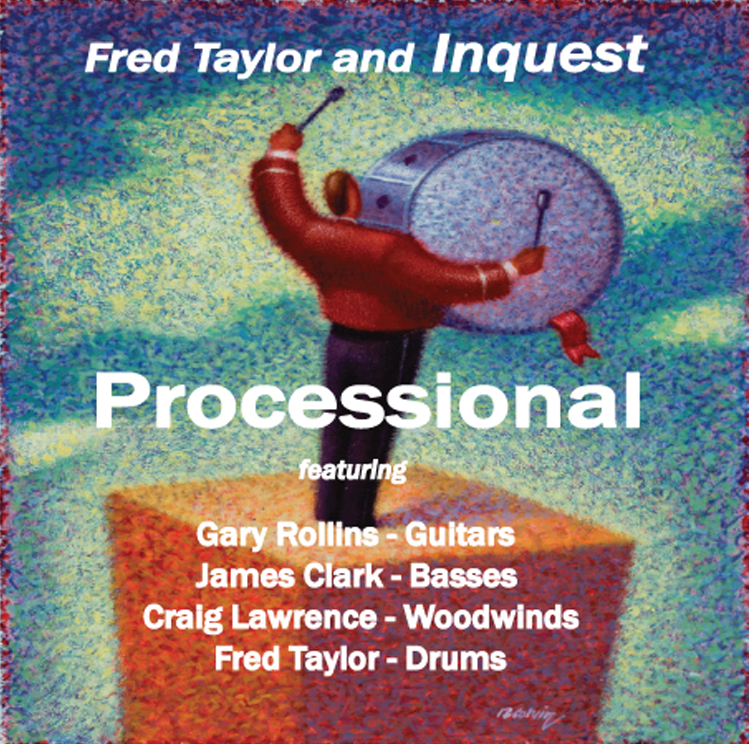 Fred Taylor and Inquest-Processional
by Clive Griffin - Jazz Improv Magazine August 2007
Drummer Fred Taylor and guitarist Gary Rollins started their collaboration in the 1970s when they formed Inquest as a trio. Some 25 years later, they reformed the group as a jazz fusion quartet. Their new album, Processional, features four original compositions and four covers of compositions by leading jazz composers - John McLaughlin, Chick Corea, Wayne Shorter, Ralph Towner - who have been associated with fusion at some points in their careers. The title track, "Processional", composed by Fred Taylor features the lyrical soprano sax of Craig Lawrence, who takes center stage for an extended solo. This piece is noteworthy for its driving rhythm in 7/4 time. Guitarist Rollins follows Lawrence with a spirited solo. James Clark also gets to shine here on the electric bass. Lawrence switches to tenor sax for a magnificent rendition of "Fall", a beautiful ballad composed by Wayne Shorter. He solos with aplomb, thoughtfully exploring the sound of his instrument. He gently and patiently explores the fabric of the song, soloing by employing an abundance of long tones - to let the ear savor it all. By contrast, Rollins' solo, which follows, is a bit more exploratory - more notes, freer rhythms, employment of some dissonance. The group changes color once more, as Lawrence moves over to clarinet on Ralph Towner's "Icarus". Lawrence breathes fresh spirit into this mesmerizing melody. James Clark takes the spotlight for the first solo - and shows off his beautiful round sound, and colorful lines. Lawrence follows with a dancing solo on clarinet. There is nothing to criticize musically about the committed creative efforts of these experienced players. A non-musical concern is worth noting. Record marketers have known for years just how important it is to make sure that the first track is one that will immediately grab the listener's attention. There are a lot of really good things about 'Processional'. Had the group decided to place "Windows" by Chick Corea as the first track rather than the second track, it would have more quickly magnetized this listener's attention. But, as the reviewer I was planning to listen to the whole album anyway. It's a good idea to have a first track to ensure the average listener will want to continue as well. The rendition of "Windows" is driving and Rollins turns in a well-constructed guitar solo. The song is also more lyrical and recognizable among jazz fans than what they chose as the first track, "Binky"s Beam, by John McLaughlin. See what you think. If you're from the northwest, you're probably familiar with the artists on this album. They're all active in the Seattle-area music scene - as educators and performers in live and studio settings. More than being just the drummer in the group, Fred Taylor also works as an arranger, and producer on recordings, jingles, TV, and more. There are more than 65 minutes of music to enjoy on Processional. What are you waiting for?
by Nancy Vivolo - Victory Music Review May 2007
Processional is smooth, easy, professional sounding jazz/fusion. Fred Taylor and Inquest's new CD shows off the musicianship of this ensemble's four members with a combination of original works by drummer, arranger and composer, Fred Taylor and guitarist Gary Rollins, with new arrangements of pieces by John McLaughlin, Chick Corea, Wayne Shorter and Ralph Towner. The result is generally mellow, spacey, occasionally funky, and sometimes very beautiful and a little exciting. The most interesting track "Dude Heavers" - a Taylor original- was described by recording engineer, Howard Mostrom, as Frank Zappa meets James Brown. I don't know about that, but it is a curious and entertaining amalgam of sounds. "Bela's Bounce," also by Taylor, is a fine tune. I really enjoyed Gary Rollins guitar playing on this piece as well as James Clark's bass playing and Craig Lawrence's clarinet solo. "Inquest," the Gary Collins composition, captures the original style of the group that first formed as a trio 1976. But "Icarus," is my favorite track. Featuring solos by Gary Rollins on guitar, Craig Lawrence on woodwinds and James Clark on bass, this light and lovely Ralph Towner composition is very prettily played.
by Forrest Dylan Bryant - Jazz Times May 2007
Propulsive little grooves run through floating atmospheres in the debut release from drummer Fred Taylor's Inquest quartet, carrying the listener along in a sort of rhythmic jet stream. Guitarist Gary Rollins is the primary melodic voice early on, crafting serpentine soliloquies over the leader's stuttering cadences and James Clark's flowing lines on electric and acoustic bass. Later, saxophonist-flutist Craig Lawrence adds a melancholy touch to the proceedings, soaring like a balloon through 'Icarus' and buffeted by breezes in the title track.
Fred Taylor-Court of Circe

The first album by Fred Taylor and his ensembles, recorded in 1981
and featuring several of Seattle's best players on all-original material. CCR-FT-1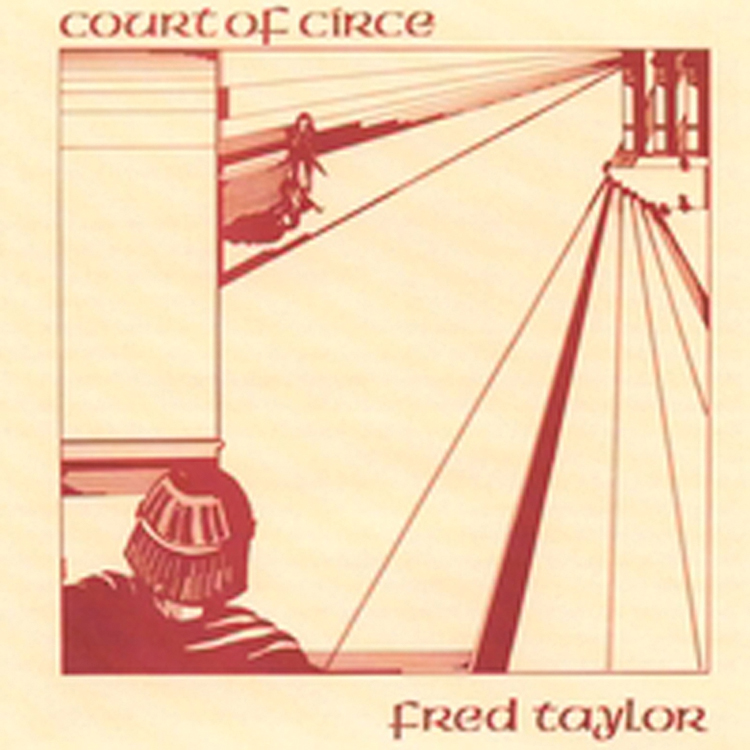 Fred Taylor-Court of Circe
by Richard Kamins - Cadence Jazz Review November 1982 (excerpts)
Court of Circe is the first solo album from percussionist Fred Taylor. The bulk of the music could be described as soft jazz fusion...
Taylor is a solid drummer ... He sounds like Jack DeJohnette, building his solos on polyrhythms and splashing cymbals.
by Paul deBarros - Seattle Weekly June 1982 (excerpts)
... Spokane drummer Fred Taylor... has produced a more interesting jazz record... Featuring a dozen local musicians, its
production is crisp and full. Taylor. obviously an organizer, has managed to get these dozen locals to play his sensible,
stretched-out arrangements very well. "Flutterby's Waltz" skips in and out of tempo and features Taylor's sensitive cymbal
technique, an appropriately meandering soprano sax solo by Craig Lawrence, and a Hammond organ solo, an unusual touch.
by Chris Lunn - Victory Folk and Jazz Review July 1982 (excerpts)
Fred Taylor debut album is a strong mainstream jazz entry and has a host of good players and tunes. "Flutterby's Waltz",
probably my favorite, goes back to his Brubeck roots... "Rio Skyline" is a contemporary motif by Brian Chambers the guitarist,
and utilizes some time changes... and Fred's drum work which works. Strong arrangements abound. Lots of care and work here that pays off.
Fred Taylor and Inquest-Rough Jazz

The first demo by the band, featuring Fred, Gary, James, and Ed Weber on piano. CCR-IQ-1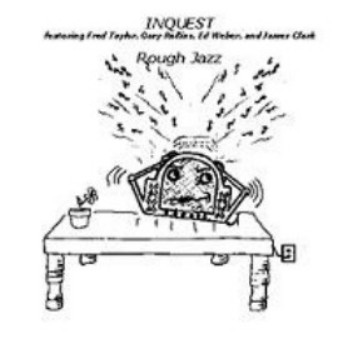 To purchase, send $6.00 (check/money order) to:
Fred Taylor-PO Box 1676-Mukilteo WA 98275-7876
Postage and handling included
Designed with Adobe Dreamweaver and Adobe Flash by Fred Taylor (C) 2017 FTM Last Update: 10-30-17 1015 EDT