Sandi Pearse 45 A Side 1985
Sandi Pearse was a sweet-voiced country singer whose partner John English called me to play on this single. This is a lively and humorous 'protest' song written by the pair; it was flip-sided with another original called "I Didn't Know". Recorded at Crow Studios by John Nelson - unknown musicians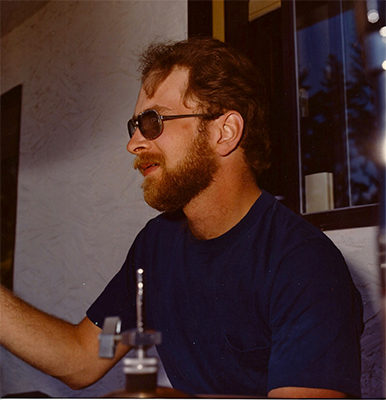 Fred in 1981
The success of 'Court of Circe in the mid '80s helped to get me a lot of studio work, but also fueled a demand for me to front another band and follow-up with a second album. This band lasted about a week, but led to lasting friendships with Bruce Wilson, woodwinds; and Dave Pascal on bass. The pianist is Chris Boscole.
The Lee Hibbert Quartet
Lee Ann Hibbert was a gorgeous and talented singer, dancer, and all-around inspiring woman. She was voted Miss Washington 1975, and went on to pursue her talents. We made a demo in a third-rate hole-in-the-wall garage studio - a poor recording, but it captured her voice and delivery nicely anyway. We played some banquets in the Seattle area and in British Columbia before disbanding. From left: Frank Olsen, bass; Fred Taylor-drums; Lee Hibbert - vocals; Andy Carr, piano.
Inquest (2000 version)
Gary Rollins and I had started Inquest as a trio back in 1977 and had performed at several clubs in the Seattle/Tacoma area, with Bruce Phares on acoustic bass. Years later, Gary and I decided to get the band going again, and add a piano to the mix. The excellent Ed Weber joined in, and we made this demo on a Roland hard disc recorder in the ballroom of the Hartley Mansion in Everett, WA. These tracks were on a disc called 'Rough Jazz' - makes sense, right? From left-Fred Taylor-drums; James Clark-acoustic and electric bass; Ed Weber-piano; Gary Rollins-guitars
Cover of 'Beyond A Long Dry Spell' 1989
My best friend Ken's brother Doug is one of those guys who's so smart, if he told you what he knows you'd have to die. It was from him that I learned about all the really cool music before anyone else - Zappa, Beefheart, King Crimson, Hendrix, Miles, everybody. Doug is an interesting musician, performing primarily on bass and guitar, and has written some incredible music which may show up here later. He and I always wanted to do a project together, so in late 1989 we grabbed some of his old friends from Spokane and I grabbed my buddy Joe 'Nerney' Roderick, went down to a vacant office in my office building, and set up for a couple of weeks to put all this together just for a lark. Doug and Bill had already done the rhythm tracks - without me and without a click - so I learned a lot about how to disguise time shifts! It was strictly a low-budget operation for fun, and we did have fun! Doug's brother Ken, my lifelong best friend, a long-time professional illustrator in New York City, did the cover art. Douglas Hamilton-guitar, bass, vocals; Bill Morse-guitar, keys; Joe Nerney-sax; Fred Taylor-drums, percussion.
The Riverside Drivers in 1988
This great little rock 'n roll band was made up of jazz and blues/rock stalwarts. Joe Roderick, from Chicago, handled most of the lead vocals and tenor sax. Bassist Larry Turner was one of my bandmates from several groups, including JazzDance. Trumpeter Keith Baggerly was and still is the leader of the Roadside Attraction Big Band in Seattle, while Joe Schrock was a popular rocker in the Seattle area. We played a few gigs; this one at the Ballard Firehouse in Seattle was recorded by an audience member and the cassette given to me. L-R: Joe Roderick-tenor sax, vocals; Fred Taylor-drums; Joe Schrock-guitar, vocals; Keith Baggerly-trumpet, vocals; Larry Turner-bass.
Designed with Adobe Dreamweaver and Adobe Flash by Fred Taylor (C) 2017 FTM Last Update: 10-30-17 1100 EDT